Performance, care and slimming

!
SALE!
The BYE! Endurance Bar is made with a foundation of oatmeal flakes, combined with real fruits and added to that are i.a. Chia seeds, Quinoa and wheat ...
Energy gel with added caffeine to provide a mental and physical boost: • 21.5 grams of carbohydrate per gel • Formulation delivers energy ...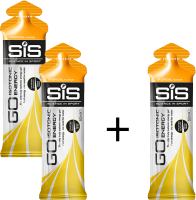 The SiS GO Isotonic Gel was the world's first isotonic gel effectively delivering an easily digestible and quick supply of carbohydrate for energy ...